Regular price
€465
Sale price
€465
Unit price
per
Customers also bought
View full details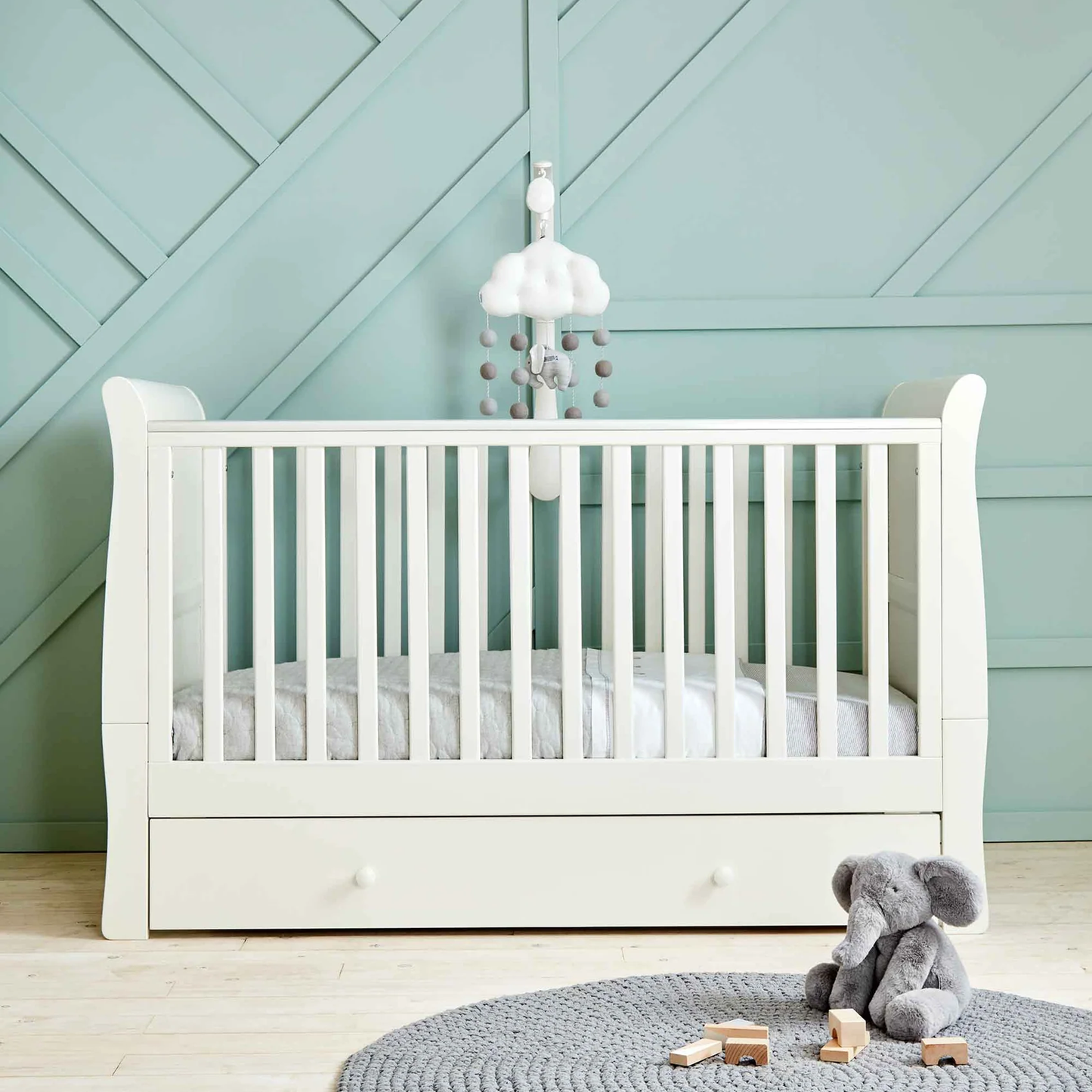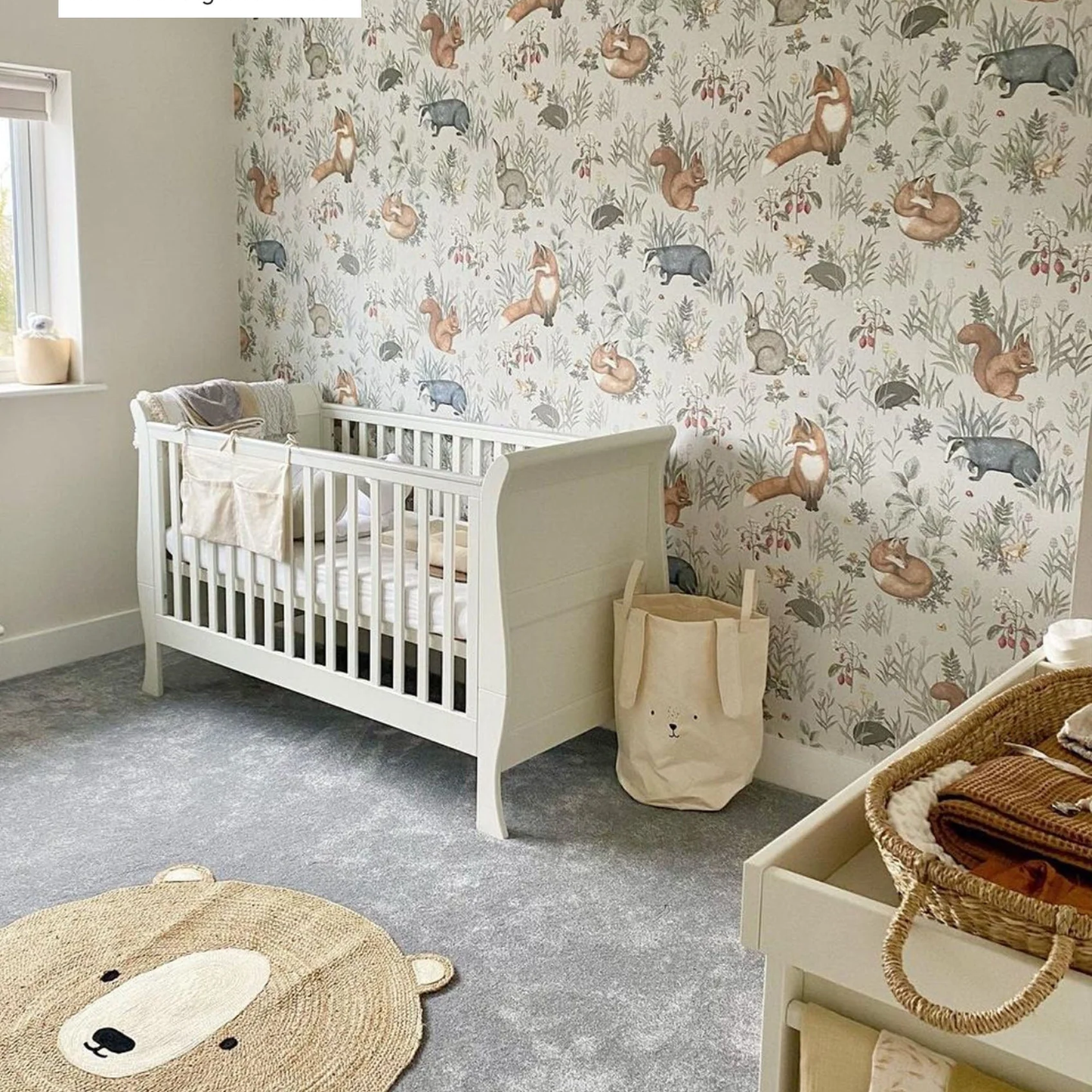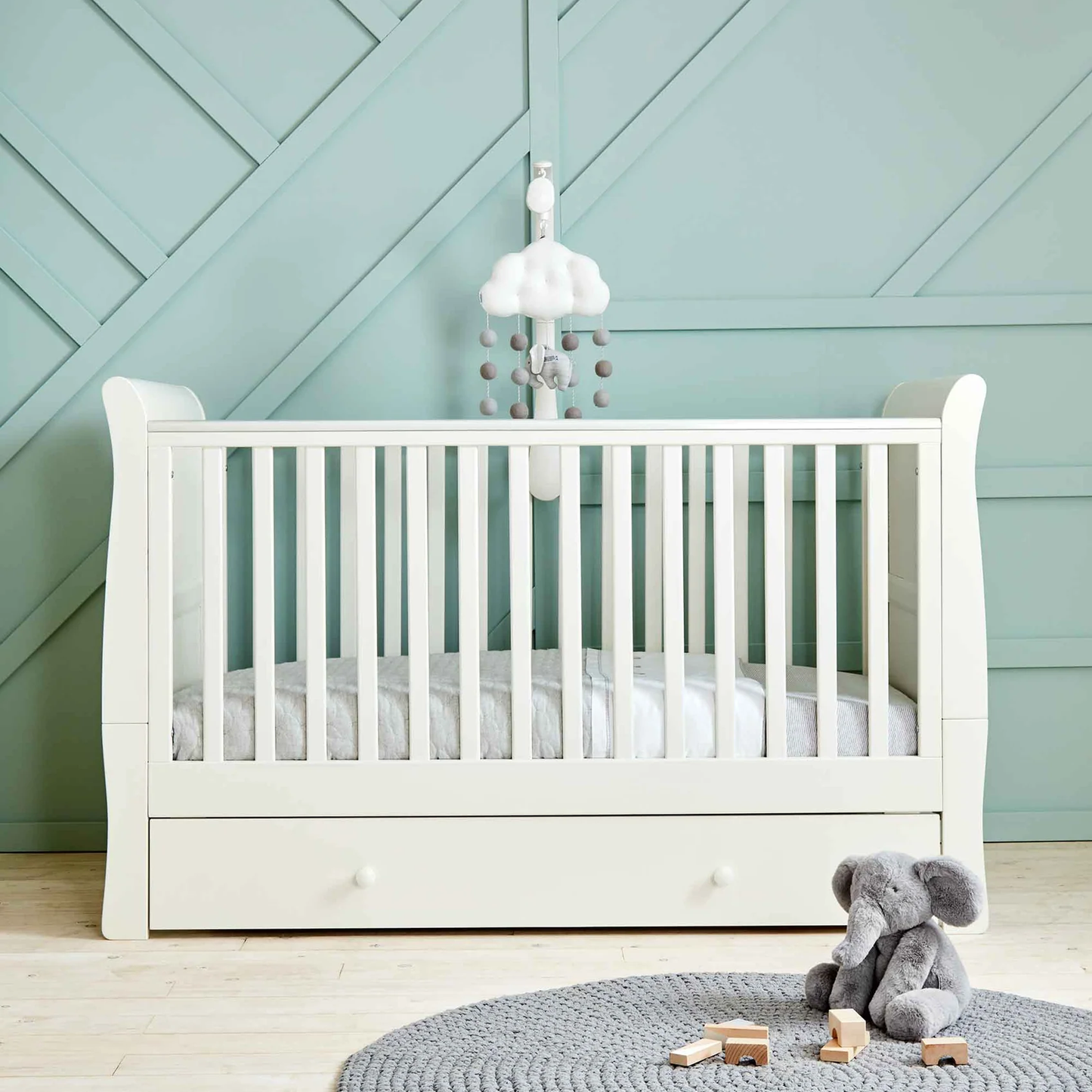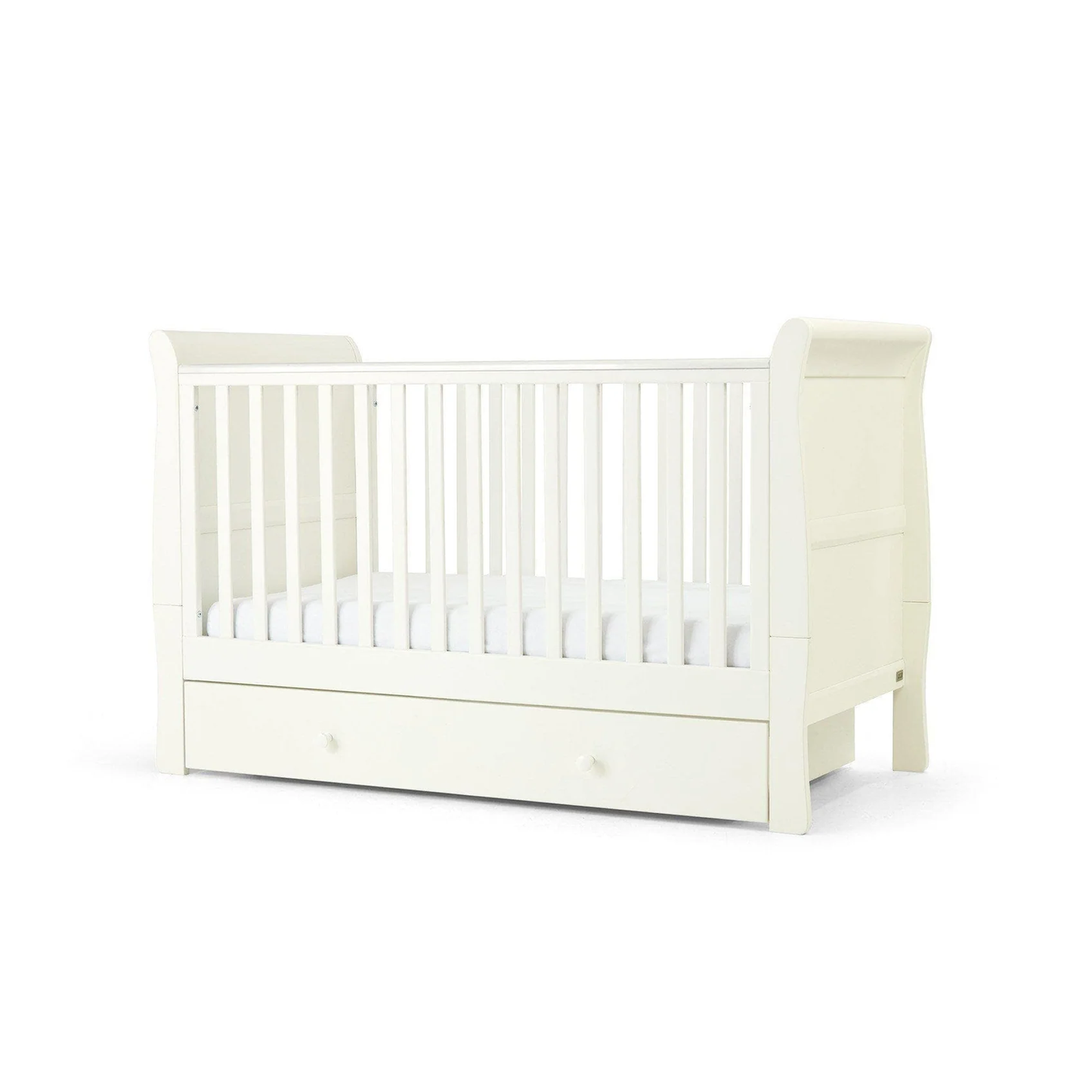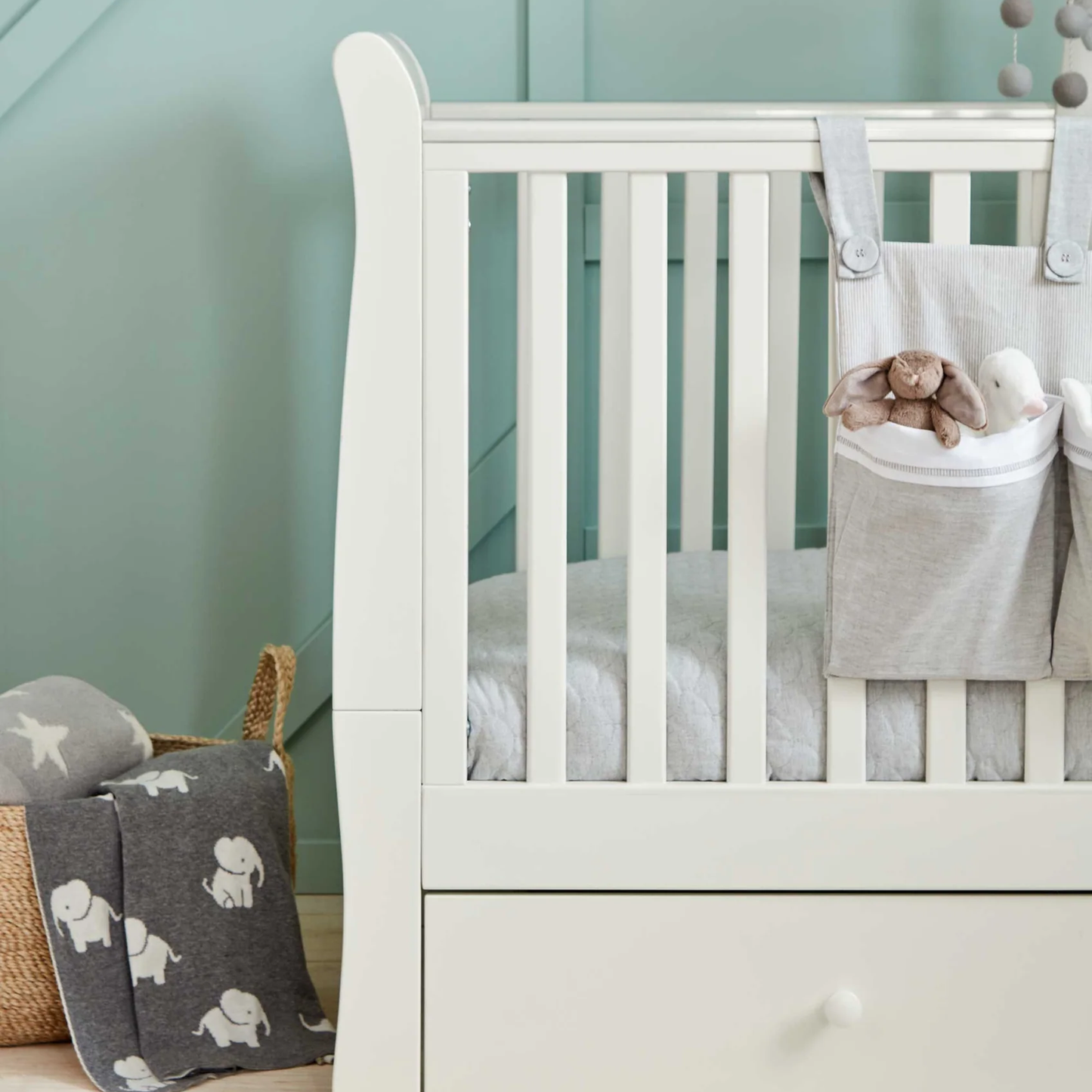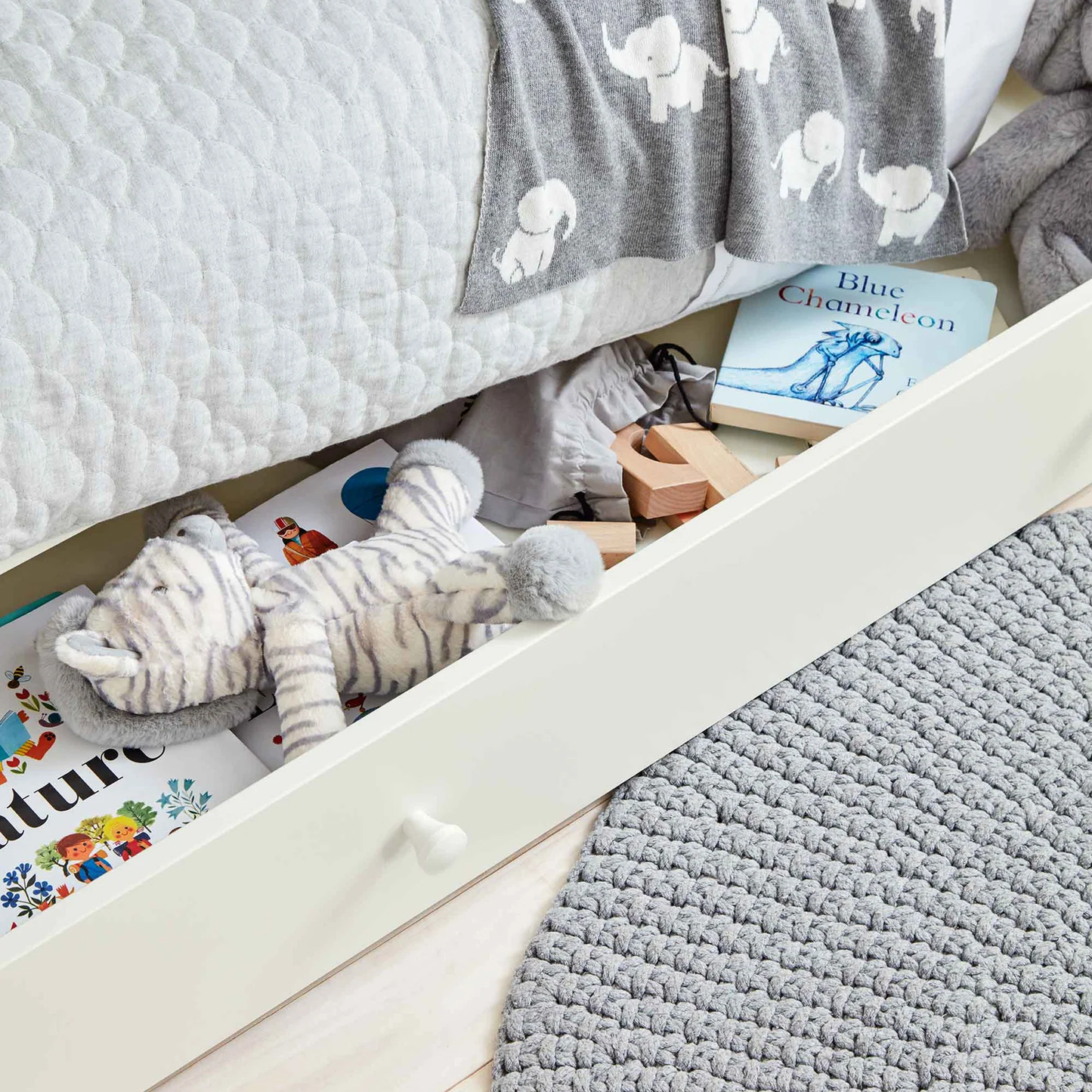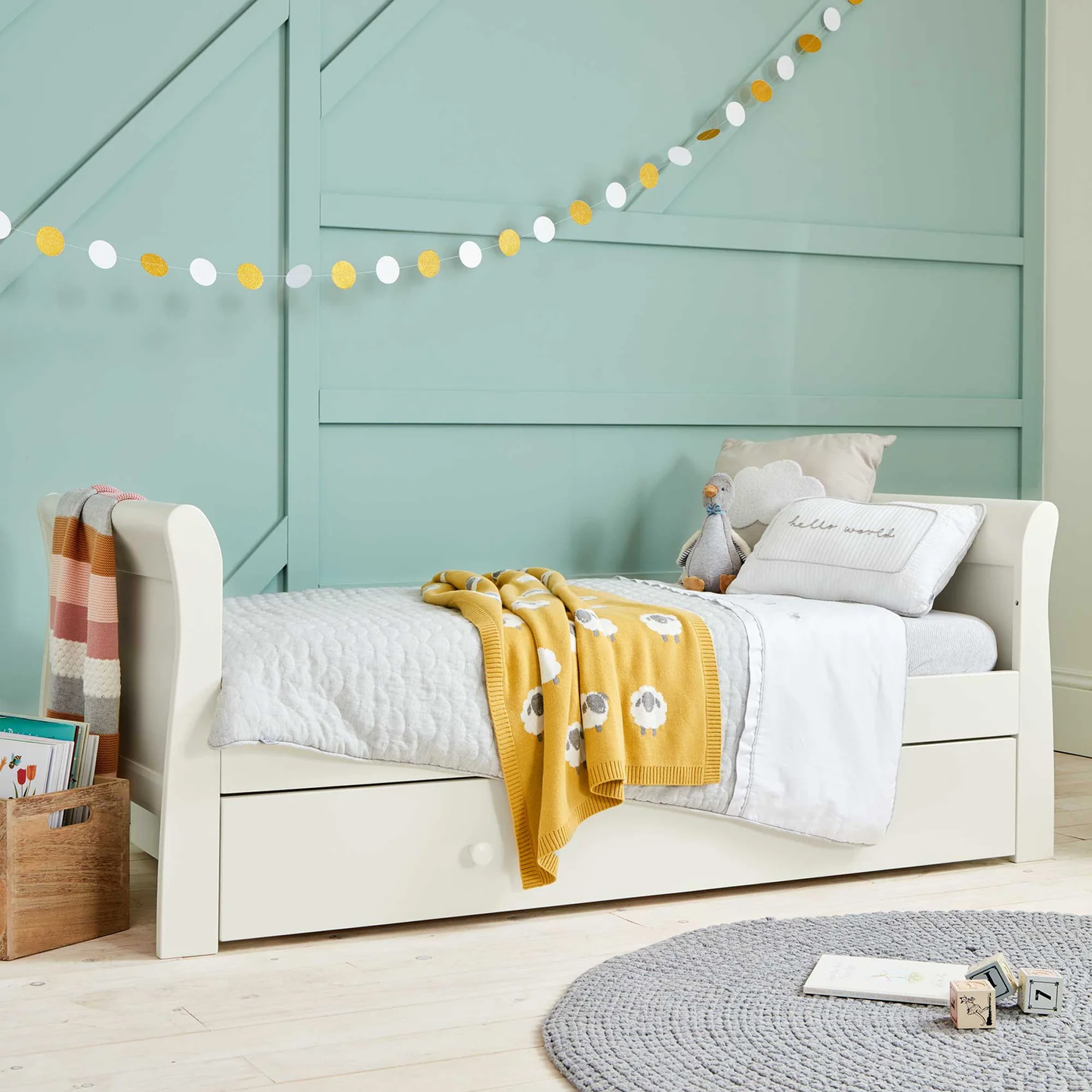 Introduction
Key Features & dimensions

Introducing the Mamas & Papas Mia baby cot bed, a perfect companion for your little one's early years! This wonderful cot bed magically transforms into a toddler bed, ensuring your child stays comfy and snug until they're around 4 years old. No need to fret about constantly upgrading as they grow!
Two adjustable cot base height settings make your life easier. Now, you can effortlessly put your baby down for a peaceful nap without the worry of disrupting their sleep. Plus, with the handy under-bed storage, you can keep your little one's bedroom neat and tidy, creating a cozy sanctuary for them to rest and play.

Teething can be a challenging phase, but fear not! The Mia cot bed comes equipped with two teething rails. These rails provide soothing relief for your baby's gums while also protecting the edges of the cot. Rest assured, your baby's growing teeth won't cause any damage.

Invest in the Mamas & Papas Mia baby cot bed and enjoy the perfect blend of functionality and style. Your little one will have the sweetest dreams in this versatile, safe, and oh-so-comfortable cotbed


If you're all about elegant design for your little one's nursery, the Mia collection will fit right in. Designed and developed in-house at Mamas & Papas, it pairs traditional sleigh curves with contemporary straight lines. And because these timeless pieces are adjustable, organising baby's room is a breeze.
Age Suitability: Cotbed: Birth - 4 years Approx.
Cot converts into a toddler bed, for long-lasting use.
Adjustable cot base comes with 3 height positions
Mattress sold separately: Cotbed size mattress required 140cm x 70cm
Teething rails included to protect the cot and soothe babys gums.
Materials: Pine & engineered board
Self Assembly required
Standards:

European safety standard EN 716:2008+A1:2013
British safety standard BS 8509:2008+A1:2011

Wipe clean with a damp cloth.
Dimensions:
Size - L: 156cm x W: 74.4cm x H: 99cm Approx
Weight: 48.9kg

Introduction

Introducing the Mamas & Papas Mia baby cot bed, a perfect companion for your little one's early years! This wonderful cot bed magically transforms into a toddler bed, ensuring your child stays comfy and snug until they're around 4 years old. No need to fret about constantly upgrading as they grow!

Two adjustable cot base height settings make your life easier. Now, you can effortlessly put your baby down for a peaceful nap without the worry of disrupting their sleep. Plus, with the handy under-bed storage, you can keep your little one's bedroom neat and tidy, creating a cozy sanctuary for them to rest and play.

Teething can be a challenging phase, but fear not! The Mia cot bed comes equipped with two teething rails. These rails provide soothing relief for your baby's gums while also protecting the edges of the cot. Rest assured, your baby's growing teeth won't cause any damage.

Invest in the Mamas & Papas Mia baby cot bed and enjoy the perfect blend of functionality and style. Your little one will have the sweetest dreams in this versatile, safe, and oh-so-comfortable cotbed


Key Features & dimensions


If you're all about elegant design for your little one's nursery, the Mia collection will fit right in. Designed and developed in-house at Mamas & Papas, it pairs traditional sleigh curves with contemporary straight lines. And because these timeless pieces are adjustable, organising baby's room is a breeze.

Age Suitability: Cotbed: Birth - 4 years Approx.
Cot converts into a toddler bed, for long-lasting use.
Adjustable cot base comes with 3 height positions
Mattress sold separately: Cotbed size mattress required 140cm x 70cm
Teething rails included to protect the cot and soothe babys gums.
Materials: Pine & engineered board
Self Assembly required
Standards:

European safety standard EN 716:2008+A1:2013
British safety standard BS 8509:2008+A1:2011

Wipe clean with a damp cloth.

Dimensions:

Size - L: 156cm x W: 74.4cm x H: 99cm Approx
Weight: 48.9kg

Words from our happy customers
Had an amazing experience at BabyDoc Shop. I really felt like we were looked after and all the info provided helped us make the right decision for our buggy purchase. Also, you definitely can't beat their prices!

Nina

BabyDoc shop offer an excellent service to expecting parents; we felt very overwhelmed with all of the pram and car seat options. The staff took the time to explain everything to us in detail, without any pressure to buy.

Madeline

Highly recommend Baby Doc Shop. We recently had to upgrade our Car Seat and we had a great experience with Mike. He was super friendly and helpful and had all the answers to anything we asked.

Niamh
Best Price Guaranteed

We monitor and adjust prices daily to make sure we offer the best value on all our products. If you find a cheaper price elsewhere, we'll match it.

Find Out More

Video Calls

Our video calls are a relaxed and personalised way of speaking to one of our team from the comfort of your own home. Book a time that suits you today.

Learn More

Visit In-Store

Our shop is based in Deansgrange, Dublin. Drop in or book a time to have a free personalised one-to-one meeting with one of our experts.

Schedule Visit